Leviticus 18:22-30 ~ 22-THOU SHALT NOT LIE with mankind, as with womankind: it [is] abomination. 23-Neither shalt thou lie with any beast to defile thyself therewith: neither shall any woman stand before a beast to lie down thereto: it [is] confusion. 24-Defile not ye yourselves in any of these things: for in all these the nations are defiled which I cast out before you: 25-And the land is defiled: therefore I do visit the iniquity thereof upon it, and the land itself vomiteth out her inhabitants. 26- Ye shall therefore keep my statutes and my judgments, and shall not commit [any] of these abominations; [neither] any of your own nation, nor any stranger that sojourneth among you: 27-(For all these abominations have the men of the land done, which [were] before you, and the land is defiled;) 28-That the land spue not you out also, when ye defile it, as it spued out the nations that [were] before you. 29-For whosoever shall commit any of these abominations, even the souls that commit [them] shall be cut off from among their people. 30- Therefore shall ye keep mine ordinance, that [ye] commit not [any one] of these abominable customs, which were committed before you, and that ye defile not yourselves therein: I [am] the LORD your God.

This Is What The President Obama Says:
"My expectation is that when you look back on these years, you will see a time in which we put a stop to discrimination against gays and lesbians whether in the office or on the battlefield. You will see a time in which we as a nation finally recognized relationships between two men or two women, are just as real and admirable as relationships between a man and a woman."

On Oct. 10,2009
President Barack Obama
said these words to a warm and welcoming cheer from the crowd of about 3,000 at the annual dinner of the
Human Rights Campaign, (HRC)
a gay rights advocacy group which we have detailed on this site. In fact gay advocate,
Harry Knox
, current member of the
Advisory Council on Faith-Based and Neighborhood Partnerships
was the former director of the HRC until Presidential appointment in April of this year.
In one of the most shocking parts of the
President's speech
he single handedly and in one sentence exalted gay and lesbian relationships to "admirability". Not only are the immoral relationships of homosexual unions out of the closet, they have taken center stage and are now touted as being something worth aspiring to. This means that homosexual relationships are, in the minds of many leaders of our country, at least equally as desirable as heterosexual ones. What has happened? This indicates a paradigm shift of morality, from objective values to culturally commensurate and relative values. Plain and simple the winds of CHANGE has shifted from the absolute truth of the God's word to a standard that is both socially and culturally acceptable and ever changing.
"I will end 'don't-ask-don't tell,'"..."We should not be punishing patriotic Americans who have stepped forward to serve the country,"..."We should be celebrating their willingness to step forward and show such courage and selflessness on behalf of their fellow citizens ... especially when we are fighting two wars."...I will end don't-ask-don't tell, that's my commitment to you."

Don't-Ask-Don't-Tell
was the tag name of the law was passed by Congress in 1993 and signed by President Bill Clinton. The act prohibits any homosexual or bisexual person from disclosing his or her sexual orientation or from speaking about any homosexual relationships, including marriages or other familial attributes, while serving in the United States armed forces. President Obama said that he's working with Pentagon and congressional leaders on ending the policy so that gays can serve openly in the military without fear of reprisal or discharge.
The question is do the straight men and women that serve in the military mind taking showers with and bunking with individuals who are openly gay? Is there a psychology that comes along with these type of associations that make it difficult for both the straight and homosexual person? Will there be a greater risk on the battlefield for a homosexual than for a straight individual.? Will the homosexual receive preferential treatment in advancements and promotions?

I'll deal with some of these questions in the racism & the struggle for equal rights below.

"And I've called on congress to repeal the so called defense of marriage act and and to pass the domestic partners benefit and obligations act."

The HRC was one of the major advocates for repealing
Prop. 8 in California
and suffered a black eye at the hand of what they considered to be the "religious right". Since then 7 states plus DC have joined the ranks of legalized gay marriage bringing the total to 9 states plus DC. This is working according to the plans of the gay activist movement and in particularly groups such as
Gay And Lesbian Advocate Defenders (GLAD) and Lambda Legal
. who have aggressive plans to make homosexual marriages legal across the United States.
With that comes child indoctrination. As homosexual marriages become legal, and because we currently allow a system of federally controlled education, text books and syllabuses must be changed to reflect the laws of the land. This has happened, and will continue to happen as parents find that they have no rights when it comes to protecting their children in the public education setting. I've documented one such case HERE in Massachusetts which is the "gold standard" for homosexual educational rights.

President Obama has further committed and deeply entrenched himself himself into the homosexual agenda. From the
Presidential Web
site the further plans are open for everyone to view:
"President Obama also continues to support the Employment Non-Discrimination Act and believes that our anti-discrimination employment laws should be expanded to include sexual orientation and gender identity. He supports full civil unions and federal rights for LGBT couples and opposes a constitutional ban on same-sex marriage. He supports repealing Don't Ask Don't Tell in a sensible way that strengthens our armed forces and our national security, and also believes that we must ensure adoption rights for all couples and individuals, regardless of their sexual orientation."

Racism & The Struggle For Equal Rights
Is the struggle against racism and for homosexual rights equated? In my opinion absolutely NO.
Homosexuality DOES NOT equal the struggle for racial equality although the struggle for social acceptance follows the a similar path.
The critic says that in all of those questions that were asked above, we can simply remove homosexual and insert Black. Those were similar considerations when Blacks were allowed to serve in the proverbial "white man's" army? But is that really the case?

Being Black is certainly nothing that can be changed neither can it be repressed although many try. Black is something that is beyond an individuals choice "to do" and one cannot vacillate between being black and or any other color. In fact once a person IS Black they cannot become any other race or nationality. most say that 1% of blood that is Black is Black forever no matter how bleached it may be.

Similarly to my Grandmother who was 100% Chippewa. By all accounts she looked like a white woman. She married a Black man. When that happened, her future children, as fair skinned as they would be, were no longer considered Indian (except by the gov't & casino industry) They were considered Black. In fact when my father showed up at the job at General Motors in Detroit, MI., light skinned and as much straight hair as he wanted to have, his skin was yet a half hue darker than white, and immediately my Grandmother, as faithful and good worker as whe was lost her job.

Sexual Choice
You see, all sex is a choice. Although many feel sex is an uncontrollable urge, it's really a choice. Love is also a choice and it is a spiritual venture not meant to be controlled by feelings (as it often is) or emotions (as is the modern standard). Homosexuality is not subject to the constraints of God and is a violation of his word. Plain and simple. It is a sin, along with heterosexual sin, and one must be saved or delivered from sexual sins IF that is one's propensity. I have written about a much argued point on
Homosexuality In The New Testament HERE
. FYI: God still does not favor homosexuality and it is still a sin.
Be it known, as I have stated clearly before on this blog, no person deserves to be discriminated against in employment, housing or the right to live and pursue freedom because they are homosexual.
The reason is because homosexuality is not an illegal activity under the law (at least in most places). Homosexuality has advanced in the
American Psychiatric Association (APA)
definitions, and was declassified as a mental disorder in 1973. All disciplines soon followed.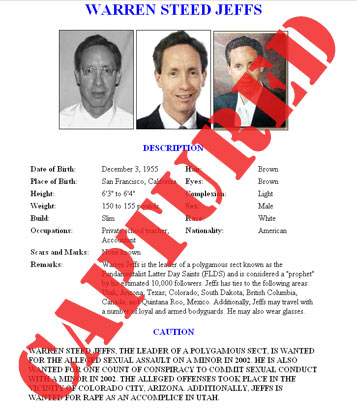 However the doors are open to members and advocates of other so called "sexual minorities" such as pedophiles and the incestuous, who are making the statement and asking the question, "I'm think I'm normal, why not make my sexual lifestyle legal?"
I'm sure that
Warren Steed Jeffs
is claiming that polygamy and pedophilia have not been give a fair hearing, and that he should not be in jail, not only because he's God's messenger, but also because he's simply a "sexual minority". Then there's movie mogul
Roman Polanski
who certainly feels unfairly treated especially since the young lady he sexually assaulted 10 years ago was 13 years old. He knows that the legal age of sexual consent in the Netherlands is 12, (see note below) and that America is just plain ole unfair.
President Obama ended his speech by saying,

"Thank you for the work you're doing, God bless you, God bless America!"

The reality is how can we ask God to bless us when we endorse something contrary to his nature, his will and his word? How can that be blessed of God?
God has spoke and the President has spoken. Who's words will you follow and believe?
For me I'll conclude by saying this:

Joshua 24:15 ~ "And if it seem evil unto you to serve the LORD, choose you this day whom ye will serve; whether the gods which your fathers served that [were] on the other side of the flood, or the gods of the Amorites, in whose land ye dwell: but AS FOR ME AND MY HOUSE, we will serve the LORD."

Blessed!

Should We Be Alarmed About Hate Crimes Legislation?
Read
HERE
and then read
HERE.
Note:
The Netherlands has no sodomy laws, the age of sexual consent is 16 for all,
sex between an adult and a young person between the ages of 12 and 16 is permitted by law, as long as the young person consents.
It may only be prosecuted by complaint from the young person or the young person's parents. The question remains whether the public prosecutions department would proceed to prosecute if the young person themself had consented and their parents filed the complaint.