We Must Rescue Our Youth
"We're not animals. We're not savages.
We're students and we're trying to achieve,"
Maritza Morales
Richmond High student
Richmond High School in Richmond, CA. has become the center of attention over the last week but not in the way that either it's citizens or the rest of America would have liked.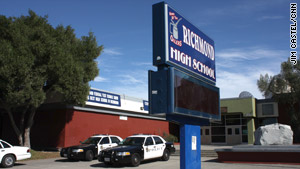 One would not have thought that a school Homecoming celebration would take on a criminal tone and be froth with what could be considered the most animalistic and degrading treatment of a fellow human being in recent times.
According to
CNN.com
, It was at a school homecoming that a 15 year old girl had her human dignity stripped away from her while as many as 20 or more people looked on with amusement. This was heinous crime that needs our attention as the church and as a community of believers. It is our time to rise and go back to what we know that works and the only thing that will deliver our youth and families from the whims of human moral relativism and the dank and dark depths and capacity of sin found within the human heart without Christ as savior.
Because of this I have enclosed a special message that I hope will encourage you to be and further become a part of the solution to this degeneration and decay of human value that is all too prevalent and observable within our communities. Please be encouraged: (Click on POSTS at the bottom of the player and then click the message to play it in its entirity)
****The Special Broadcast Program Can Now Be Heard
HERE
****
So far there have been approximately 5 arrests and a host of individuals identified that were simply perverted , spineless onlookers who found pleasure in the degradation of a fellow human being. Video and tape sales won't help us past this one...we don't need personality, we need Jesus!
Let us engage in prayer for this young lady who from all accounts was a
good person
and regardless of that was a person who certainly did not deserve to be demoralized and dehumanized in this way. May the grace, peace and strength and healing power of the Lord Jesus be with her now like never before! Amen.
Blessed!