The National Action Network along with other groups, came to Washington DC presenting their case in what is a national movement demanding that the entire justice system of the United States be revamped through a series of measures. Although the prayer began with a tribute to "Mother god" (a God whom I am not familiar with) and was also supported by gay advocacy groups such as the Human Rights Campaign (HRC), and ended with the rumored mother of a very popular minister's baby (Stacey Francis) and a "Please send Black Jesus" Jamal H Bryant...in all it was a great event and one worth listening to to gain a basis for the various viewpoints on the myriad of issues that have contributed to our current condition within our communities as it pertains to race relations. Click the above link for the entire video.
Here are some highlights:
Reverend Al Sharpton ~ ..."WE'RE HERE FOR THREE THINGS. ONE, WE NEED A LAW ON JUDICIAL THRESHOLD. WHY IS THE THRESHOLD SO HIGH FOR YOU TO PROTECT CITIZENS AND POLICE MATTERS? WE'RE NOT SAYING ALL POLICE ARE BAD. WE ARE NOT EVEN THINK THAT MOST ARE BAD. WE ARE NOT ANTI-POLICE. BUT, WE'RE ANTI-BRUTALITY. AND THE FEDERAL GOVERNMENT MUST HAVE A THRESHOLD TO PROTECT THAT. SECOND, THE JUSTICE DEPARTMENT MUST HAVE A DIVISION WANTED TO DEAL WITH THIS. THIRD, WE MUST HAVE THE POWER OF SPECIAL PROSECUTORS -- NOT THE LOCAL PROSECUTORS. WE CANNOT TRUST THOSE. THEY DEPEND ON EACH OTHER EVERY DAY TO HAVE A NON-CONFLICTED INQUIRY OF EACH OTHER. THEY SAY, YOU DON'T SPEAK FOR ANYBODY GET, WHAT WE MARCH, THOUSANDS COME. THIS IS ABOUT THE VICTIMS. WE DO NOT ALL AGREE WITH EACH OTHER. WE DON'T ALL HAVE THE SAME TACTICS. BUT, WE HAVE THE SAME GOAL. THAT IS EQUAL PROTECTION UNDER THE LAW. THAT IS NOT BLACK AGAINST WHITE -- IT IS RIGHT AGAINST WRONG. THAT'S WHY THE WHITES AND BLACKS ARE HERE TOGETHER -- SHOW THE WORLD TODAY THAT THIS IS NOT A BLACK MARKS, OR WHITE MARCH, THIS IS AN AMERICAN MARCH FOR THE RIGHTS OF AMERICAN PEOPLE. LET ME SAY, THERE ARE THOSE THAT WANT TO ACT AS THOUGH WHAT WE SAY IS UNREASONABLE. WHAT IS UNREASONABLE ABOUT ASKING FOR A COURT CASE? WHAT IS UNREASONABLE ABOUT ASKING FOR DUE PROCESS? WHAT IS UNREASONABLE ABOUT ASKING FOR THE CONSTITUTION TO WORK FOR EVERYBODY? WHAT IS UNREASONABLE ABOUT SAYING THAT MICHAEL BROWN AND TAMIR RICE, AND ERIC GARNER HAD RIGHTS TOO? WHAT A LOT OF PEOPLE DO NOT UNDERSTAND IS THAT JUST LIKE POLICEMEN HAVE THE RIGHT TO GET UNIONS TO DEFEND THEM, VICTIMS HAVE THE RIGHT TO GET CIVIL RIGHTS, AND HUMAN RIGHTS ORGANIZATIONS TO STAND BEHIND THEM. YOU THOUGHT IT WOULD BE KEPT QUIET. YOU THOUGHT YOU COULD SLID -- SWEEP IT UNDER THE RUG. WE WILL KEEP THE SPOTLIGHT ON MICHAEL BROWN, ON ERIC GARNER, ON TAMIR RICE. THE ONLY WAY YOU MAKE ROACHES RUN IS YOU HAVE TO PUT THE LIGHT ON."...
Marc Morial
, the head of the National Urban League, set forth 10 points of action that he encouraged each individual to take back into their communities:
10 ACTION STEPS (minus 1) FOR POLICE REFORM AND ACCOUNTABILITY
1- WE WANT WIDESPREAD USE OF BODY CAMERAS AND DASHBOARD CAMERAS IN EVERY POLICE DEPARTMENT IN THIS NATION.
2- WE WANT AN END TO THE IMPLEMENTATION OF 21ST CENTURY COMMUNITY POLICING.
3- WE WANT A UNIFORM DEADLY FORCE POLICY THAT IS TRANSPARENT AND UNDERSTOOD BY ALL POLICE DEPARTMENTS ACROSS THE NATION.
4- WE WANT ALL POLICE OFFICERS TO BE COMPREHENSIVELY RETRAINED TO LEARN HOW COMMUNITY POLICING SHOULD WORK TO DEVELOP RELATIONSHIPS BETWEEN POLICE AND THE COMMUNITIES THEY SERVE.
5- WE WANT SPECIAL PROSECUTORS TO BE APPOINTED TO INVESTIGATE POLICE MISCONDUCT. THE RELATIONSHIP BETWEEN LOCAL POLICE AND LOCAL PROSECUTORS IS TOO CLOSE FOR THEM TO ALWAYS BE FAIR AND IMPARTIAL.
6- WE WANT THE FBI TO CREATE A CLEAR AND TRANSPARENT REPORTING SYSTEM. FOR LETHAL FORCE INCIDENTS.
7- AND WE WANT A NATIONAL DATABASE OF CITIZENS COMPLAINTS AGAINST THE POLICE.
8- WE ALSO WANT A NATIONAL POLICE ACCREDITATION SYSTEM. FOR THOSE DEPARTMENTS THAT DON'T MEET THIS ACCREDITATION, THEY ARE INELIGIBLE TO RECEIVE FEDERAL DOLLARS.
9- WE WANT THIS CONGRESS THAT MEETS BEHIND US TO PASS A NATIONAL COMPREHENSIVE ANTI-RACIAL PROFILING LAW. NO ONE BASED ON RACE, COLOR, CREED, RELIGION, NATIONAL ORIGIN OR GENDER SHOULD BE PROFILED BY THE POLICE.
Judge (Greg) Mathis
entered additional details on what Justice should look like for all Americans:
JUSTICE SHOULD LOOK LIKE FEDERAL INTERVENTION WITH FEDERAL AND STATE LEGISLATION AMENDING THE LAWS ON SECRET GRAND JURY'S. WE WANT GRAND JURY'S TO BE OPEN AND TRANSPARENT. JUSTICE SHOULD LOOK LIKE JUST LOOK AT USING THE POLICE SAY THAT WE HAVE GATHERED AROUND THE COUNTRY. WE WANT JUSTICE TO LOOK LIKE THE POLICE IN OUR COMMUNITIES HUGGING US, TOUCHING US AND LOVING US. TO LOVE US IS TO BE A PART OF US. WE WANT JUSTICE TO LOOK LIKE CHOOSING EMPLOYMENT AND EDUCATION FOR OUR BLACK YOUTH RATHER THAN MASS INCARCERATION FOR OUR BLACK YOUTH. WE WANT JUSTICE TO LOOK LIKE THE STOPPING OF GUNS AND DRUGS BEING DUBBED IN OUR COMMUNITY BY YOUNG PEOPLE TO KILL THEMSELVES WITH. AND FINALLY, WE WANT JUSTICE TO LOOK LIKE YOU, LIKE ME, LIKE HE, LIKE SHE, LIKE THEM, LIKE THEY. WE WANT JUSTICE TO LOOK LIKE ALL OF US SO THAT WE CAN GET EQUAL PROTECTION UNDER THE LAW. GOD BLESS.
Sunday, 12/14/14 is National Solidarity Sunday. A day in which the level of understanding and community action regarding these very important issues will be broached by every major religious organization in the country. Although this is nothing new for New Bethel COGIC, it is something that may churches do not have any experience in. I have already set forth some of my ideas on this issue but will repeat them below:
Therefore, we call upon business and social and political leaders to help create and develop sustainable
economic opportunities whereby Black and poor minorities can be and become gainfully employed and a relevant part of the development of their communities.
2- The quality of communication, between authority and the community, matters, and must be enhanced:
Therefore, we call on the police and other entities entrusted with the preservation of the public trust to create methods of communication and dialogue that are in the best interest of the entire community and that safeguard all citizens. We commend both citizens and authorities to be held accountable to following those established guidelines and standards, quickly fixing and redressing issues that arise.
3- The tactics of authorities must be improved and developed in accord with the community:
We call on law enforcement at all levels to work with the community and community groups in developing strategies and tactics that best serve the public, fight crime and be of a benefit to all citizens.
4- We Believe That The Local Process Of Police Policing Themselves And The Use Of The Local Prosecutor Or States Attorney In The Cases Of Police Killing Is Ineffective And Ask For A Complete Overhaul In The Process Which Includes An Automatic Independent Review Of Each Occurrence In Which A Citizen Is Killed By A Law Enforcement Official.
All around the country, in events such as those that took the life of Michael Brown and Eric Garner, the public relies on the local States Attorney's office for Grand Jury assembly and due process. The States Attorney's office however is placed in an immediate position of conflict of interest because that office regularly works with police in order to produce convictions against criminals. We believe that process should be changed immediately simply based on the "appearance" of conflict. We believe that legal review should be an "at arms length" process and regulated independent review appears to be the best way to create and maintain that type of relationship.
5- We believe that the community policing strategy of "broken windows" is a tragedy and must be done away with.
We believe the the theory of "broken windows" leads to tragic incidents and standoffs between police and citizens. We believe that this failed theory has contributed to the mishandling of both innocent citizens and citizens such as Eric Garner allegedly engaged in certain low level crime or criminal activities. We believe that the "broken windows" strategy is a racist strategy at root and only leads to racial profiling.
6- We believe the courts, including the Supreme Court of the United States, should backtrack historical decisions and reaffirm 4th Amendment protections for ALL citizens.
The historically wild and fanciful interpretation of the courts at the recommendation of law enforcement has eroded American citizens 4th Amendments rights. A violation of 4th Amendment protections has led to excessive "stop and frisk" policies reinforcing practices of racial profiling that we see in departments and communities that embrace such theory. This must STOP!
7- Good and exceptional officers should be hailed for their values, efforts and commitments to their communities.
We believe that police departments nationwide are filled with good police who respect and serve the public. We commend those good officers and leaders to stand forward, stand up, and reclaim their departments from associates who may have questionable tactics, methods and philosophies.
EVERY life does matter. However, this is an emergency dealing with Black lives and the plight of Black America. When those entrusted with the security of the Black community then turn on that community because it is afraid of the community, then we have a problem. Hopefully this will be the beginning of change all across America on this and many other very important issues.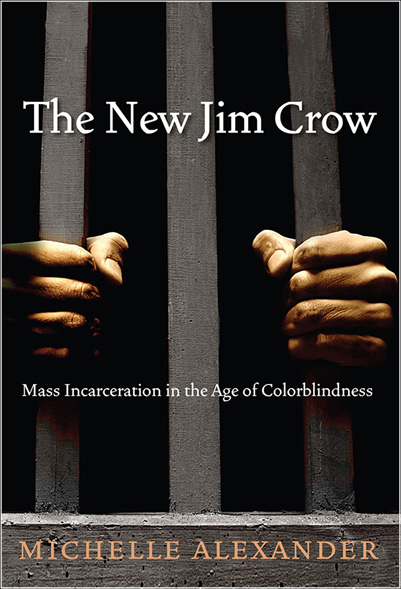 One More thing...thank you MICHELLE ALEXANDER for your diligent and timely work in this area calling on criminal justice officials to STOP the mass incarceration of Black men in this country. Your efforts are not forgotten and we look forward to seeing what you have to say as a new and brighter agenda for our entire community is both forged and put in place.
Blessed!